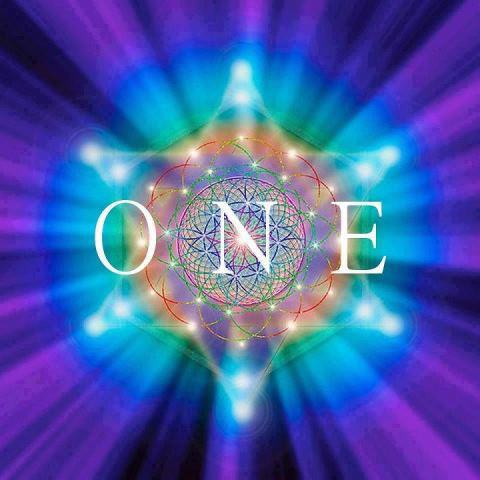 "Who am I?" The never-ending human preoccupation. The search of a lifetime. Do you know who you are? Do you think you know? How do you define yourself? Which criteria do you base this on? How do you figure it out? Are you content with "yourself", or are you finding it hard living with yourself? Are you disliking or constantly criticizing yourself? Do you love, yet other times hate yourself? Whoever you think you are, or others think you are, everybody's wrong. Who you are, underneath the image you are projecting to your consciousness and your surroundings, cannot be grasped by thoughts nor others' judgements. Who you are has nothing to do with your history, achievements, physical assets, or any personality attributes. On a deeper level, you are no-one. Don't get me wrong, I mean no offense; on the contrary. It's rather good news and you will soon find out why.
First of all, I would like you to understand that who you "think" you are, the self, is a mental construct, a fabrication of a biased and profoundly conditioned mind. The concept of Self, as a separate individual, is an illusion of your Ego. Not only is it a concept strongly and unconsciously reinforced by our western societies (collective insanity) through values such as individualism, identification with social and professional status, competition, performance, and consumerism, but more substantially it is a result of your early social and cultural conditioning. You are falsely identifying with cultural definitions of self, your past, and the world of form: which is a world of gain and loss, of constant change and impermanence.

You have formed a False Self-concept, a representation of yourself and the world, an internalized virtual reality based on early childhood experiences and socialization processes. Your mind has become conditioned as a consequence of these experiences.
The Ego is a representation of the False Self formed as a result of early psychological wounds and resulting external achievements and failures, all integrated unconsciously as part of Self.
Who you are is not to be found in mind processes, nor in your past, nor in your future achievements, and even less so in others' perception of you. Who you are is to be found within yourself through self-awareness. (More on this later).
What Psychology Says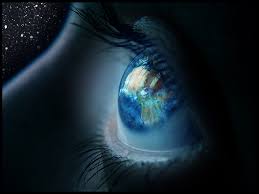 In the field of psychology, the concept of False Self was first introduced by Winnicott. He drew on different psychoanalytical theories to explain the False Self as being a defense mechanism built unconsciously and designed to (over)protect the True Self. This unconscious process often results in emotional problems such as feeling empty or "phoney" inside, inauthentic, not "fitting in", not belonging, alienated to self and others while "other people's expectations become of overriding importance, overlaying or contradicting the original sense of self".
Winnicott ( in "Ego Distortion in Terms of True and False Self" ) argued that the False Self begins to develop in infancy, as a defense against an environment that felt unsafe or overwhelming because of a lack of sufficient attuned caregiving. As a matter of fact, the False Self confuses your sense of identity and your actual capacities.
Who you think you are today, you will not be tomorrow. What you think today that you would be capable of doing, or not, in the future is a gamble, not a certainty.
Yet, many of us are instantly and unhesitantly ready to bet about certain things; i.e. "I would never do such or such thing – ever." Or you may firmly state, "I would never lie about how much I earn to impress someone" and find yourself one day doing it. Do not delude "yourself": you are capable of doing anything and everything, in all shapes and forms, in all positive and negative aspects – at any given time. Your False Self is not as coherent and "perfect" as your Ego likes to think or to lure you into thinking. In fact, you have already done things you thought you would never do. You may have already lied, cheated, betrayed, acted out, judged, condemned, used your physical assets to influence, been "superficial", or spoken badly (of others), and trust me, you will do it again without even realizing it. You're better off recognizing right now, before you meet another crashing disillusion (about yourself and others), that there is no such thing as the Self. There are only different contexts, social roles we play at each moment of our lives, with different people, in various functions we hold – always acting differently and according to each person and situation.
As time goes on, you discover every day new facets of your potential and fluctuating nature. Yet, when you become too rigid on ideas about who you think you are, or about what you think you can or cannot do, you prevent yourself not only from connecting authentically to others, but also from excelling in all different life fields. You simply become focused on results, compare yourself inappropriately and inaccurately to others. And the outcome? You live inauthentically, at half of your true potential, with mediocre results. However, when you choose to focus on the process, when you bring the being into the doing and you are melting completely into your respective role/function/activity/interaction, you will excel beyond your Ego's expectations. Simply because just being, soaking into the present moment, is unleashing your real potential and surrendering to your true self.
Who you actually are cannot be thought but only felt by surrendering to the present moment. Since in this manifest world your idea of Self is a mental artefact, in order to evolve and free yourself from pain and disillusions, you must observe your mind.
The Ego- The Problem of the Mind
If you pay attention to your mind, you will be able to recognize that most of its activity is causing unnecessary suffering. Suffering is essentially and uniquely created by your mind, not by an actual external event. An event is always neutral. What creates suffering is the interpretation you make of it. What you let into your mind and body and ruminate over is the cause of suffering and not the actual event. It's the attachment to a preconceived idea, of how things or people or a situation should be, according to your internal and virtual representation of the world, that causes pain. The reality just is as it is, with no mental labels, pure and raw: you give it an interpretation because you need to label it.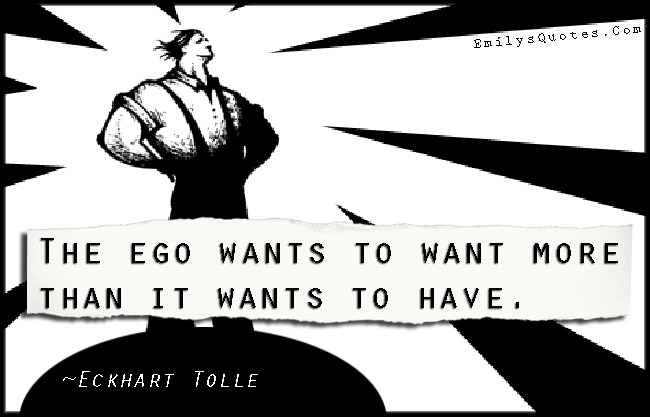 Labeling is a need to control, to categorize, and is precisely what causes pain or happiness – depending on how your interpretation fits into your internal world and how it satisfies your inner interpretation. Emotional pain is therefore caused by your Ego's (or conditioned mind's) expectations, by being attached to an imagined outcome and rejecting what really is. Suffering happens indeed when Ego's hopes or expectations have not been met. When reality is different from what we wanted.
Wanting is Ego's nature and its principal flaw. The Ego never wants what is already there; the Ego always wants something else. Ultimately wanting causes inevitably harm.
This occurs either by losing what we already have (as not appreciated, cultivated, or attended to), while chasing that something else, or by missing out on all the present opportunities along the way, too focused on new achievements. In essence, there is nothing wrong in the intention of wanting. What is wrong is being attached to an outcome. Let me break it down to you: most things turn out differently from what we planned in the first place because what happens to us in life is mostly uncontrollable and unpredictable. We act in interaction and in inter-correlation to all that is. Most of the time things do not depend exclusively on us but on a multitude of causes. Absolutely everything in this world is interconnected and multicausal.
Nevertheless, we spend most of our lives power-delusional and in deep suffering – thinking we have full control. We live in a pure madness: the madness of the Ego that is delusional about control. In reality there are only two things that we can control: what enters our mind and how we respond to external events or situations. What meaning we make of it and what actions we take to improve the presenting situation and related feelings. Resisting the reality as it is and the fact that we have little control over things is like hitting your head against a brick wall. It hurts. And eventually, you will get knocked out.
Your Thoughts are not Who you Are – Am I my mind?
The Mind – A Beautiful Tool to Use with Awareness and Moderation
The very nature of the mind is to generate automatic thoughts fuelled by unconscious core beliefs, related fears, and past experiences. It operates on auto-pilot mode, ruminating incessantly thoughts about the past or about the future. Just like the ripples of a lake, most of its activities are wavering and are at best a waste of time, or at worst, detrimental to you and others.

Reviewing, chewing on, analyzing, and dwelling on past scenarios are all mental processes relying on one of the most fallible components of our brain: the memory. The memory is notoriously and scientifically known as highly unreliable whether it concerns "happy" memories or distressful events (N.B. I am not referring here to particularly traumatic events that can indisputably mark the memory and leave accurate, detailed remembrance; we may leave this topic to the side for the moment.) Nevertheless, from a neurobiological point of view, research has demonstrated our memory's limits. Each time we mentally return into the past, we distort that past reality. We select only a few elements, out of their context, and during the retrieval and analyzing process we involuntarily modify, emphasize, diminish, or exaggerate them at Ego's convenience. This applies for the recent past as much as for the distant. We always see it with a distorted filter.
Memory is certainly unreliable, selective and influenced by unconscious core beliefs and early personal stories; therefore, it is wise to avoid using your mental energy for processing the past.
Why would you want to go there anyway? Why is the question to ask yourself at all times: what am I looking for in the past? What is the purpose of my current thoughts? Can they serve me in any way today or in the future? How can I use them to my benefit? If you are dwelling on past experiences in order to take something away, to learn and/or grow from it, then go for it.

But keep in mind you are dealing with outdated material and it may be wiser to just let go of it; most of its relevancy and accuracy has been lost. Staying fully aware of the present moment avoids having to learn lessons and make mistakes you may regret later on.
On the other hand, if you like to live in the past by habit, self-indulgence, and the taste of this oh-soreassuring and familiar drug (i.e. place), then you will miss out on your life. You may be attached to your personal story and even receive social positive reinforcement for your victim role. These are impediments to growth and change. The more you identify with your past, your story, your culture, and your origins, the more you live in the dark, under your insane Ego's conditioning, never meeting your true self. On a larger scale, symbolically, you can use the past to create meaning and transform your life and past experiences into something new, empowering for you and for others. When you do that, you are evolving.
If you want to go deep about your meaning, note that I talk about it in detail in my book (chapter "On your deepest fears", How to find Meaning in your Life).
Conclusion
So in summary, daydreaming about the future, planning or worrying about it, is an equally useless practice: the future rarely turns out the way we plan it, although it does turn out the way we fear it. The ongoing feeling of worry attracts precisely our imagined scenario. Thinking, planning, daydreaming are all processes
"The past is where you learn the lesson, the future is where you apply it, don't give up in the middle"—Unknown.

Again, related directly to our history: they are simply improved versions of our past story. A more appealing satisfying movie of our past lives. Ultimately, the quality of your present will determine the quality of your future.
So, basically, when you follow the mind, you are always living outside Reality.
The mind cannot live into the present.
If you wish to keep both feet on the ground you must become able to go beyond the mind, beyond your Ego and the False Self, to capture Reality as it is. You must emerge above all your senses and observe them neutrally in order to understand what the mind really does to you. In order to gain insight into how your mind's natural propensities enslave you into a virtual world, into fear and into pushing you to feel and act destructively, you must watch the mind and not live in or be ruled by it.
The quieter your mind and your surroundings are, the more you can hear.
Make space. Make time. Learn to Meditate & Go within, as all answers that you seek are not to be found on a intellectual mind-based level. Live mindfully. The most helpful practice for me has been to work with some of the most powerful guided meditations for spiritual awakening. I have recorded them and improved them for you in my Guided Mediations CD/M3 Album (find it in "Shop").
I hope you enjoy them and that they will impact you as much as they changed me. Look forward to hearing your feedback! share share share.
Much Love,
Always