Sacred Circle & Mastermind group
for women on a mission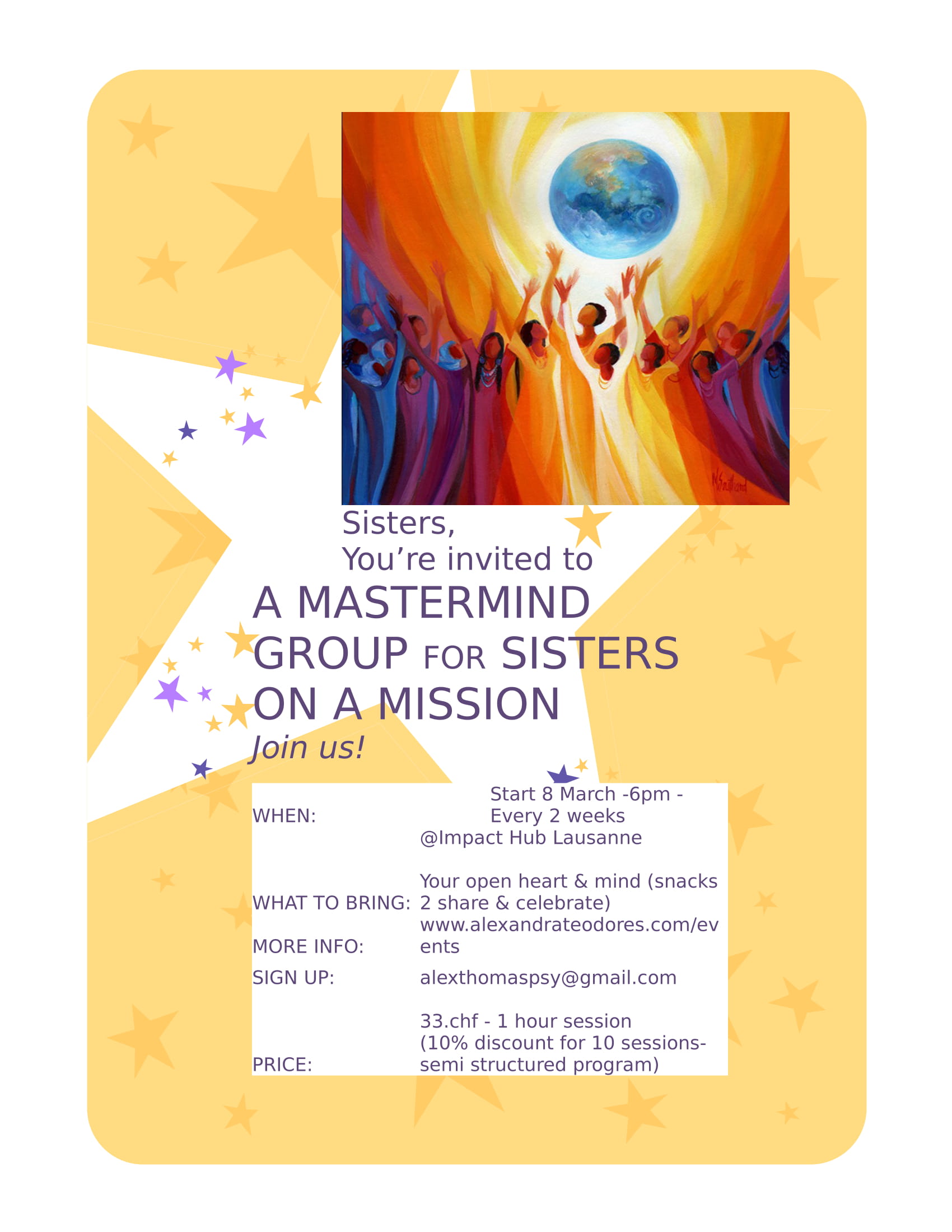 Description
This is a group for women with a dream, purpose, heart-driven goals to serve humanity and take action towards their vision.
It is a safe space to feel supported in your personal and professional development goals by other sisters who will give you input, ideas, their positive stories, experience, wisdom and courage to take actionable steps to manifest your desired reality. 
What is a Mastermind?
Other words for mastermind might be God, Source, Energy, Life Force, Spirit, Higher Power, and many more. The term used is irrelevant to the success of the group. The term mastermind was invented by Napoleon Hill in his classic 1930s book Think and Grow Rich. Hill describes a mastermind as the coordination of knowledge and effort, in a spirit of harmony, between two or more people, for the attainment of a definite purpose.

Practically speaking, a mastermind is a small, intimate group of people who regularly come together to support each other in accomplishing their goals. The goals can pertain to any topic whatsoever from health to business or relationships to finance.

How Does a Mastermind Work?

No two minds ever come together without thereby creating a third, invisible intangible force, which may be likened to a third mind. Napoleon Hill
The above quote can be easily demonstrated by this simple equation: 1 + 1 = 3

You have your own personal thinking apparatus (aka mind) and each member of the group has their own. In concert, however, something entirely new is created.

The intention of the group creates a higher intelligence that is guiding the group and moving it forward. The awareness of this "third" mind helps members trust that even when things get uncomfortable or scary for one of the participants – there is something bigger happening.

How Can a Mastermind Help Me?
This is a semi-structured facilitated group run by a professional coach that will include a different topic each session and the following core elements:
 Step by Step Action Coaching
We work towards supporting you achieve your goals and we help you design a step by step process. The facilitator is a trained coach in Solution Focused Therapy & group facilitation.
Each time you come to the group you share your success or "failure" and get new input, new notes, new feedback, new energy to GO. New themes & tips for personal development are given at each new gathering.
We celebrate each success and failure. Failure is always a success anyway since you learned a new lesson.
We share the hard times / moments and we hear from others how they overcame them. This will remind you that you too know how to overcome difficulties.


Connection & Conscious relating
With an accelerated intimacy Game, we learn to know others deeply- The Game includes Fun & Positively empowering questions, actions & nonverbal actions that will be introduced to help you connect authentically & consciously to others. This aims at forming a 100% solid sisterhood group.

 What is a Mastermind NOT?

A mastermind is not therapy. It does not dig up past pain to heal you of trauma. It is not a therapeutic support group in the way that is essentially focused on Solutions & Positive heart to heart & mind to mind sharing.
We welcome your struggles and support you in your challenge, however we don't keep you there. From the mastermind's perspective you are already a whole, perfect, completely healthy, joyful, loving and loved, abundant being even if that is not yet your physical reality.

For whom is this Mastermind Group?
For sisters who possess a majority of the following characteristics:
1. Open hearted and open minded
2. Conscious living servicing the scared. ex socialpreneurs, naturepreneurs, soulpreneurs
3. Natural leader
4. Embraces diversity
5. Accepting and allowing of other points of view – open to feedback
6. Oriented towards growth, evolution and expansion
7. Lives their life purpose passionately
8. Works willingly & happily on own issues even when it is not easy – self- responsibility
9. Allowing others to SEE them while making recommendations and suggestions
10. Emotional stability and maturity
11. Respectful of confidential information
12. Trustworthy, Trusting
13. Intellectually abilities developed, wittiness, creativity
14. Kindness, compassionate
15. Willingly give and receive
16. Enjoyment of being a powerful creator
17. Responsive instead of reactive
18. Generosity
19. Commitment to regular attendance at meetings – if you are too busy to attend regularly you may not attend at all.
20. Respectful of the time of other members
21. Serious about supporting each other

About the Alexandra TeoDores
Alex TeoDores is a certified psychologist, coach, psychotherapist & spiritual mentor. She is a business partner of the top business hospitality school – the Ehl- coaching students, helping them make a meaningful difference and take steps toward change and personal evolution. This when she is not facilitating spiritual and personal growth groups, teaching children meditation, or creating art.
Citizen of the world, she is fluent in 5 languages and a certified meditation teacher. Her main passion is help others rise & embody true purpose.
Price: 33 euros/chf.- / hour (or 10% discount for a full 10 sessions package)
REGISTRATIONS: (places are LIMITED)
Payment Options:
via PayPal mentioning "Mastermind Group Lausanne or Geneva" at the address: alart_thomas@yahoo.com or via the payment link provided. 
*You don't need a PayPal account. To send money without a PayPal account just go to PayPal's front page and from there click the link Send Money> Send Money Online. From there it will be possible to send a payment to any email address.
Look forward to meeting you, all! Much Love,xx